Buy French Oilcloth Tablecloths online right here! ......just click on the tabs at the top of this page for the size you need.....
"what is a French oilcloth?"

.....they are 100% cotton tablecloths that have been coated with a special acrylic substance that repels all food and wine spills!....just wipe off with a warm soapy sponge and NEVER put our French oilcloths in the washing machine!

****our sizes****
Provence oilcloth: 70 inch round

55 inch x 76 inch rectangle

60 inch x 100 inch rectangle

60 inch x 116 inch rectangle

Jacquard oilcloth: 55 inch square

55 inch x 76 inch rectangle

55 inch x 98 inch rectangle
55 inch x 116 inch rectangle

Below is a French oilcloth ....beautiful and durable...just wipe of with a warm soapy sponge for all food spills!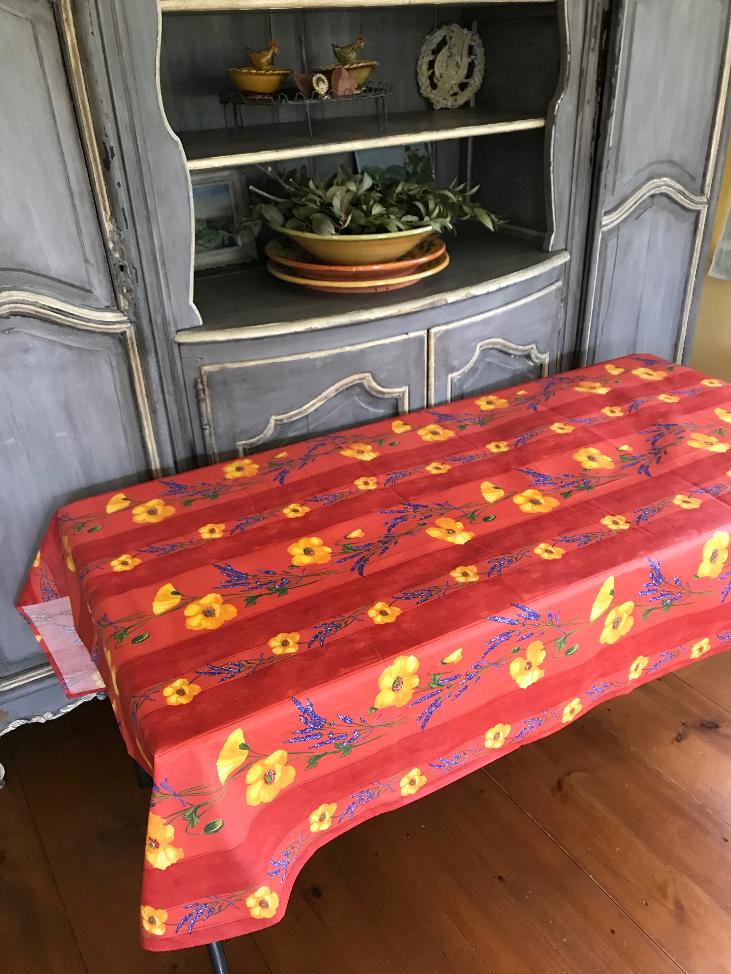 Other treasure inside Coquelicot

(click to enlarge)

* colorful market bags *gorgeous purses *turkish spa towels *indoor/outdoor pillows

Our French tablecloths are designed and manufactured in France by local artisans . The French Oilcloth tablecloths come in several sizes to suit your kitchen decor, and the Provencal fabrics are made with colors that bring your kitchen decor into a new realm of current design yet with a classic feeling. French linnens have always defined a home with style and elegance. We also carry an extensive line of hand selected French gifts like, French soaps, French Jacquard hand towels, French gourmet foods, Jacquard napinks made from 100% cotton. You will find many French inspired gifts also, for the tabletop ,like Laguiole steak knives, Provencal herb grinders, French Camargue sea salt, Herbs de Provence, French mustards and much more.Please check out our French Provencal tablecloth collection as we are direct importers for the manufacturer of both French Jacquard tablecloths, Jacquard napkins, Jacquard hand towels, as well as Provencal designed French oilcloth tablecloths and Provence designed French napkins in 100% cotton.